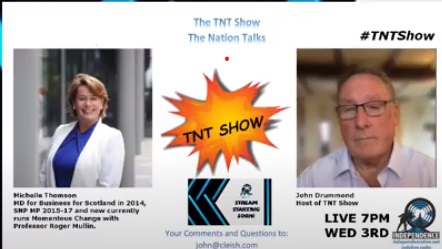 TNT - The Nation Talks #004.     
Host John Drummond interviews Michelle Thomson, who  is a passionate and committed independence supporter.
A member of the SNP from aged 16 she was the Managing Director for Business for Scotland during the Independence referendum of 2014 and took part in over 100 speaking engagements as well as extensive media appearances during this time.
She was the SNP MP for Edinburgh West from 2015-2017. She now runs Momentous Change http://momentouschangeltd.co.uk with former colleague Professor Roger Mullin. Much of the work they do also strives to make Scotland a better place such as their recent publication into harnessing the power of the Scottish business diaspora.
The TNT show is broadcast on indylive.radio on Wednesdays at 7pm